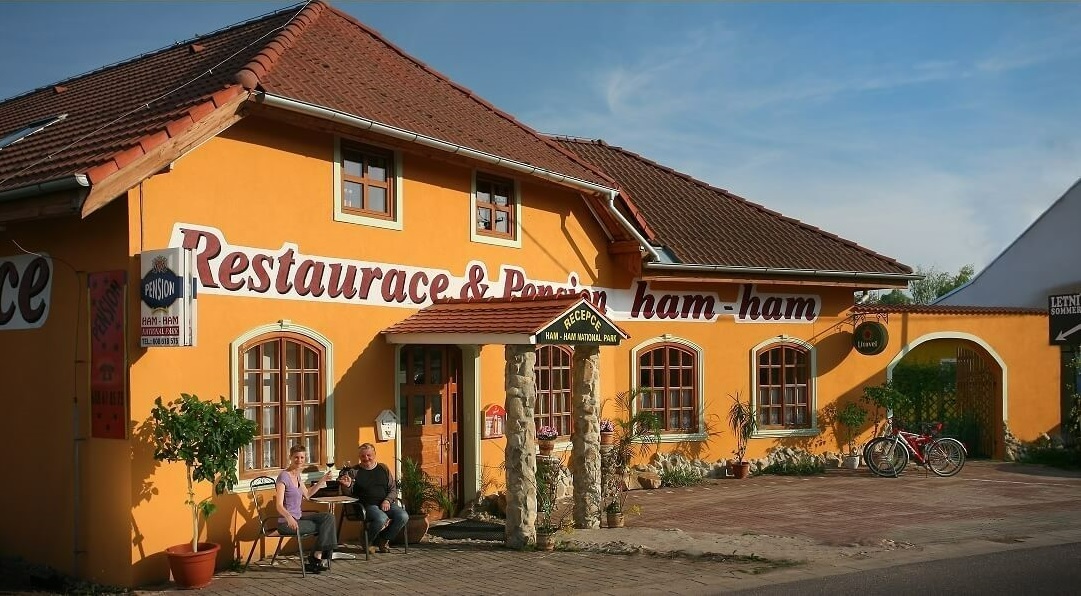 Guest-house Ham-Ham National Park Znojmo - Havraníky
---
Guest-house with restaurant HAM-HAM NATIONAL PARK is located directly in the protected zone of the NATIONAL PARK PODYJÍ, two kilometers far from the Austrian border, right on the road connecting Znojmo with the Austrian town Retz.
Guest-house is a new building with 2 up to 4-bed rooms with bathrooms and colour TV with satellite.
Restaurant on the ground floor is open from 8 a.m. to 10 p.m. There is a PC with internet access available in the restaurant (for a small fee).
Village of Znojmo - Havraníky is an excellent starting point for all who love great wine, sightseeings, nature as well as biking. During the Grape Harvest we provide transfers to the Znojmo center and back.
Suitable for fishermen.
At the near aerodrome, there are sightseeing flights available.
In the morning, we recommend our guests to try horse riding (there is a farm in the village).
Upon agreement, we provide transfers by a passenger car.
Our guests can (for fee) park their cars in a protected area.
Threre are many sightseeings, interesting and pitoresques places both in the neighbourhood and in close parts of Austria. It is our pleasure to provide our guests with advice and help with selecting suitable tourist routes according their demands.
Interior
Pricelist
Breakfest is not included in the following prices.
Room
1-6 nights
7-14 nights
14 or more nights
Double room
600 CZK
600 CZK
600 CZK
Double room - one person only
1100 CZK
1100 CZK
1000 CZK
Three beds room
550 CZK
550 CZK
450 CZK
Four beds room
500 CZK
500 CZK
500 CZK
Apartment with common room
2900 CZK
2900 CZK
2500 CZK
The prices are in CZK per person and night, with an overview of the apartments. No VAT is billed.
If the room is not fully equipped, or at a long stay we can offer the prices regarding the current demand. The prices are not valid during the time of "Znojemské vinobraní".
Orders for Stays and Contact
Accommodation can be booked by phone number +420 608 618 575, or at e-mail: pension@ham-ham.cz. If you need to have a guarantee for a room reservation, we recommend you to send us a deposit to the address Krapkova 2, 671 81 Znojmo, or to our bank account 2600660765/2010, SWIFT: FIOBCZPP, IBAN: CZ28 2010 0000 0026 0066 0765.
Other Services
For the restaurant, wedding celebrations, seminars and other activities call tel. no. +420 608 618 575. Same for wine tasting in a wine cellar, viewing routes, riding, trips in the National Park Podyjí and trips on various routes to the affected localities etc.
Contact:
Petr Dušejovský, Krapkova 2, 671 81 Znojmo, IČ: 665 41 590
Tel.: +420 608 618 575, e-mail: pension@ham-ham.cz
Account number: 2600660765/2010 SWIFT: FIOBCZPP IBAN: CZ28 2010 0000 0026 0066 0765